I was originally looking for silk pillow cases, but decided to give these a try because they were a better price. I am not disappointed! I have seen a noticeable difference in my hair in the mornings and overall they are so smooth and comfortable to sleep on. I've washed them several times and haven't seen a difference in the quality. I would buy again.
Premium satin pillowcases for hair & skin benefits & to minimise hair loss & breakage
Satin silk pillowcases for hair & skin benefit the condition of your beauty to minimise hair breakage and loss. Non-absorbent satin pillowcases create less friction to maintain hair moisture.
Satin Silk Pillowcase | Satin Silk Pillow Case | Satin Pillow Slip
100% Satin Polyester – 51cm x 76cm
FREE FAST DELIVERY ACROSS SINGAPORE ON ALL ORDERS $75+ or more - (save $25)
This satin pillow cover utilises 100% polyester satin to provide and smooth and soft feel with a distinctive and lustrous appearance.
High quality satin is more sturdy & durable than silk pillowcases, which need ongoing professional care.

DUE TO CURRENT DEMAND
PLEASE ALLOW 5-7 DAYS DELIVERY

100% Satin Polyester – 51cm x 76cm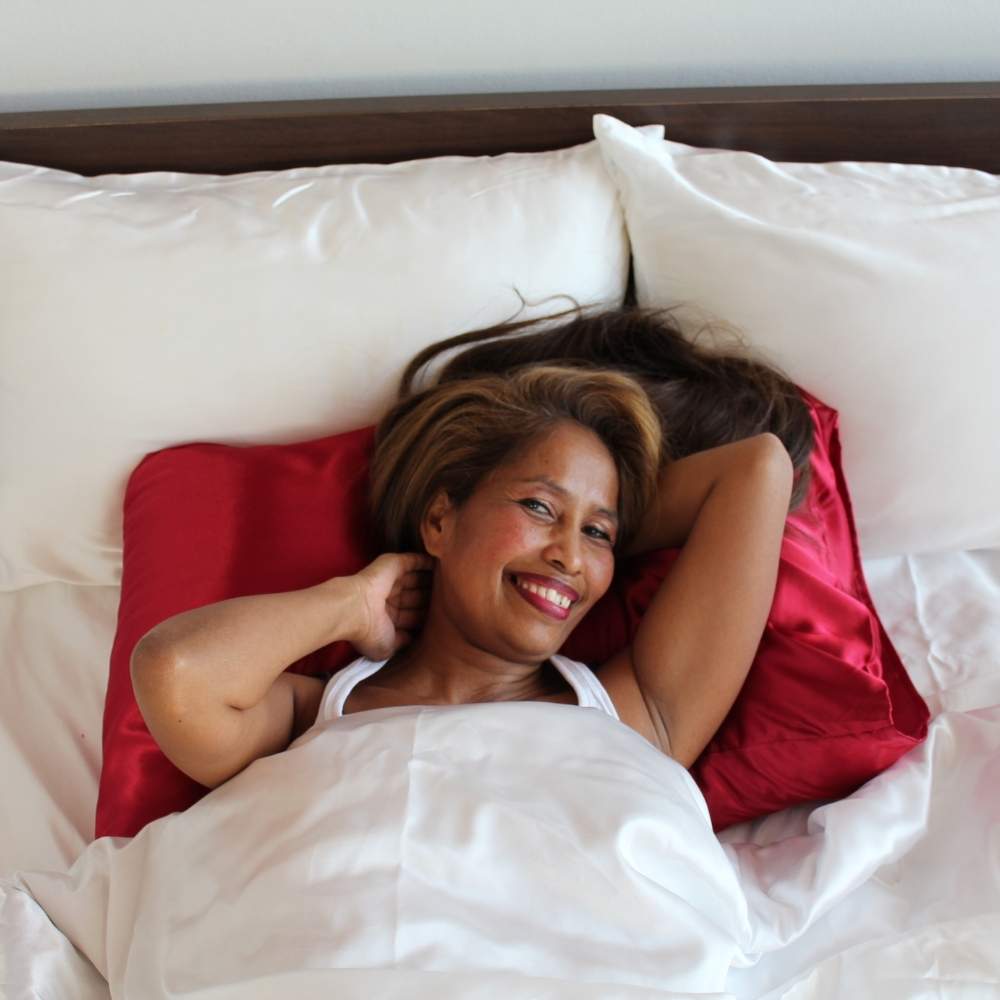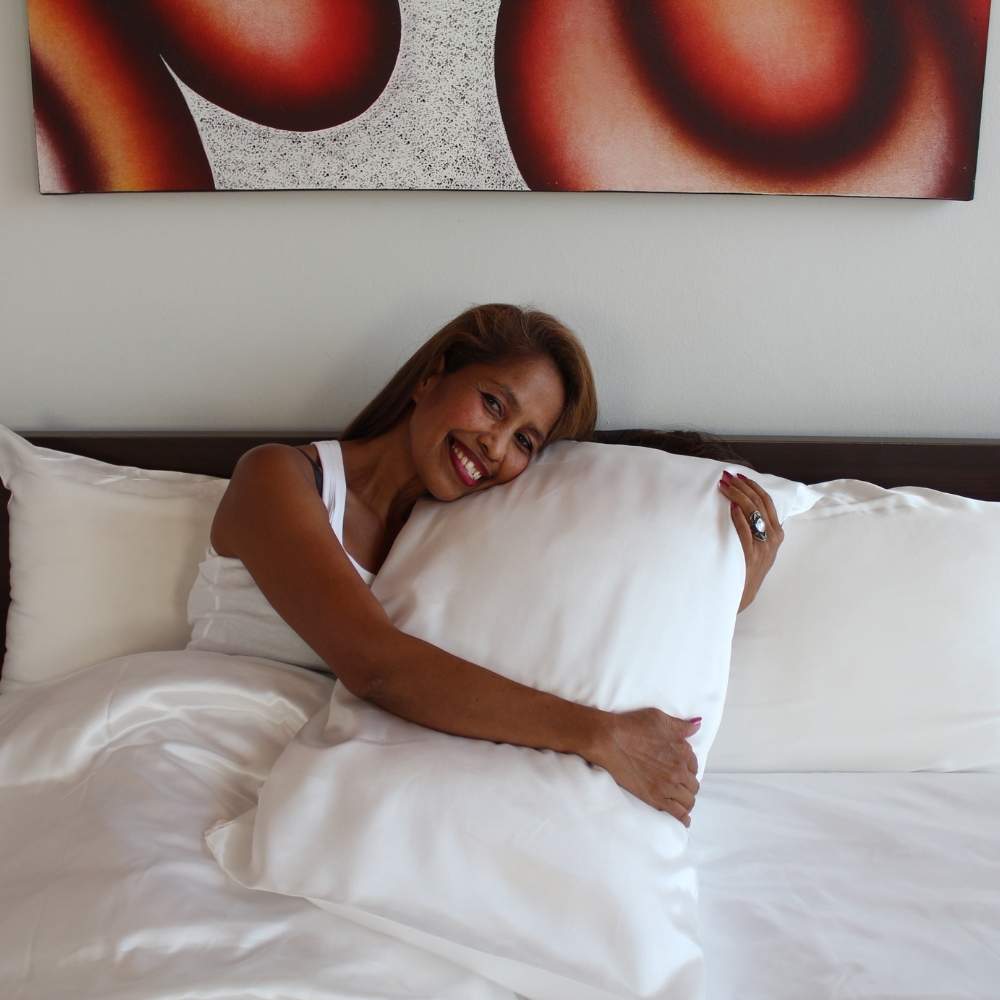 Satin pillowcases keep you warm in cold and cool in hot to establish a sound sleep all night every night. With stain resistant features and a smooth and soft feeling for hair and skin benefit the condition of your beauty to minimize hair breakage and loss.
Non-absorbent satin pillowcases create less friction to maintain hair moisture, protection for your skin against facial sleep lines that could become deep wrinkles.
PREMIUM QUALITY FABRIC
100% microfiber satin pillow cases to provide more resilience than sateen and silk pillowcases.
SLEEP WITH COMFORT
Satin can keep you feel warm in cold and cool in hot to ensure you a sound sleep all night long.
ENVELOPE CLOSURE END DESIGN
No zipper envelope closure end design to offer you easy on and off pleasant user experience.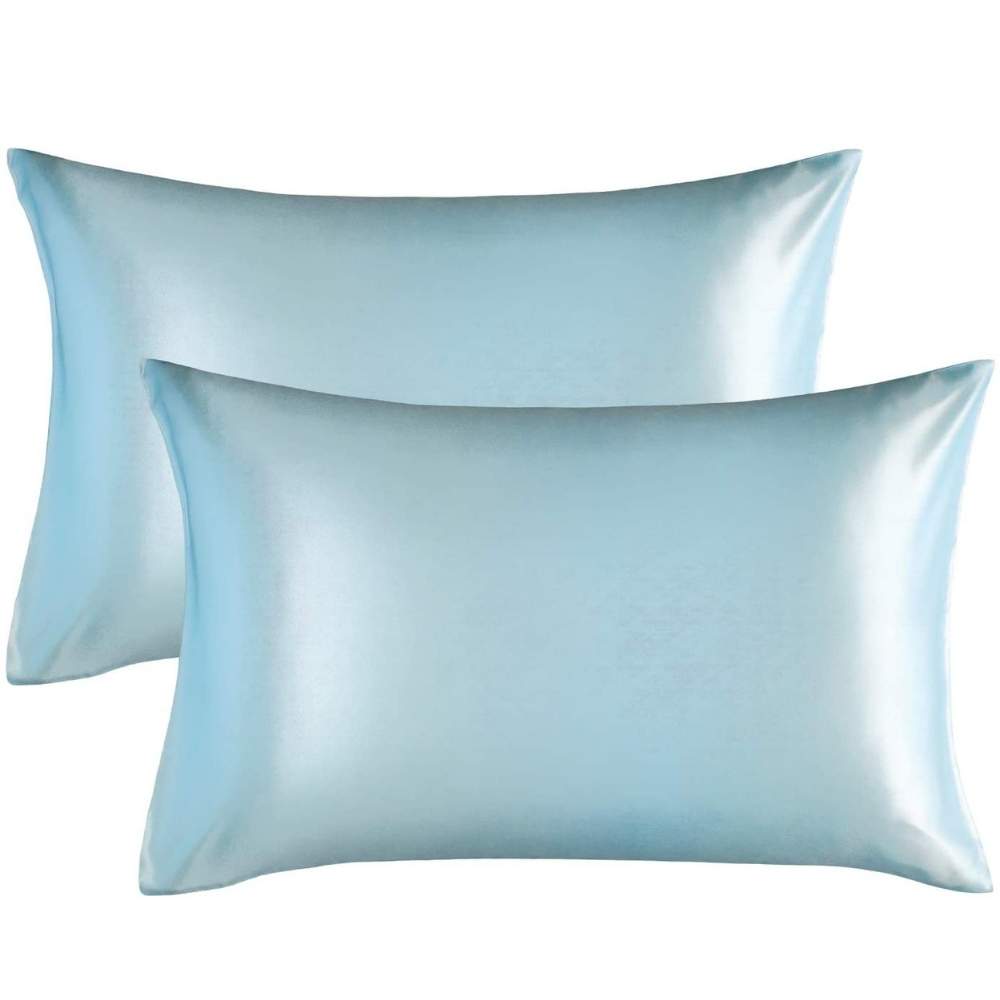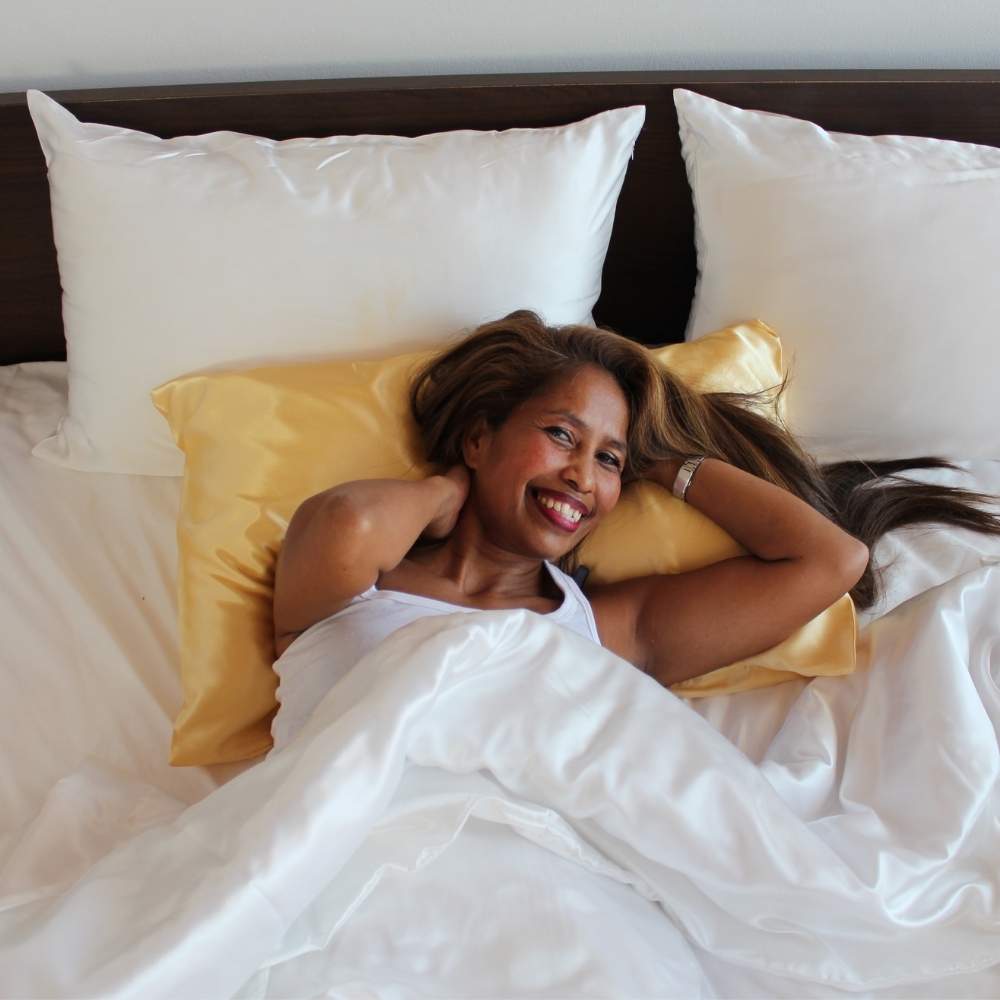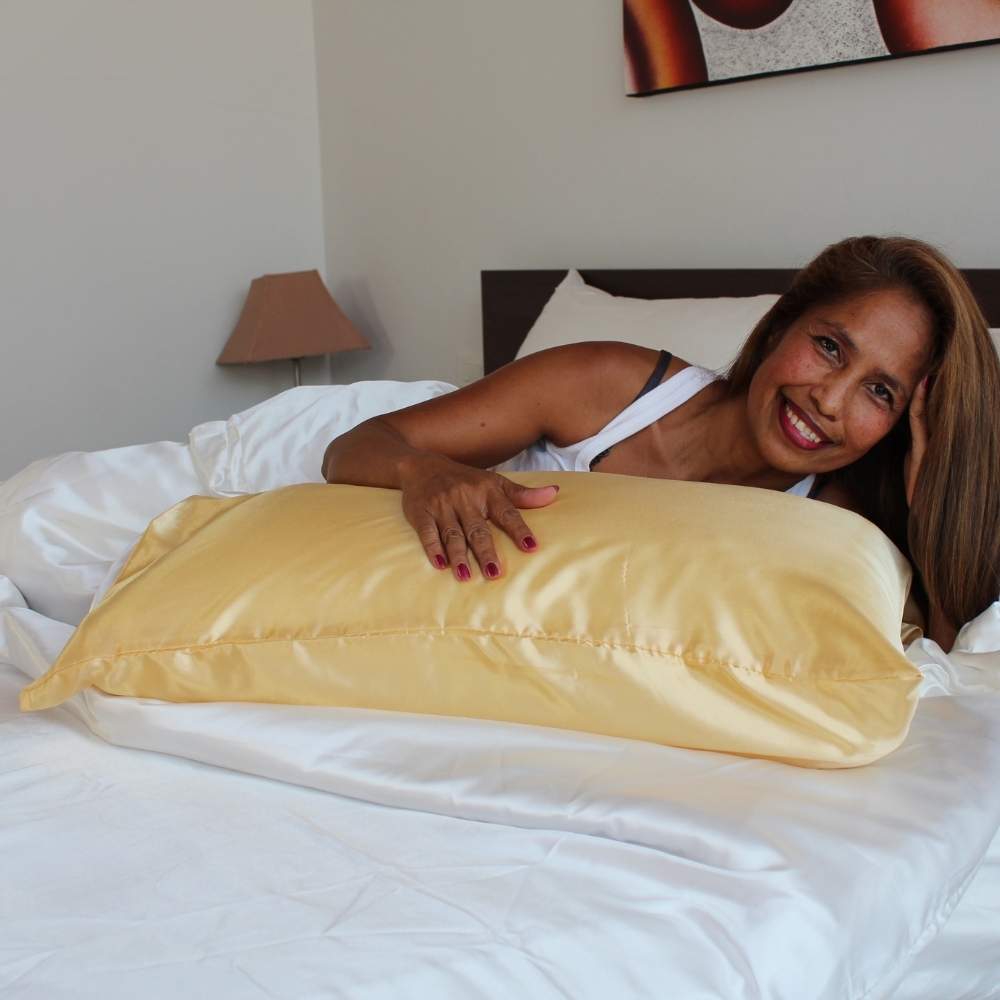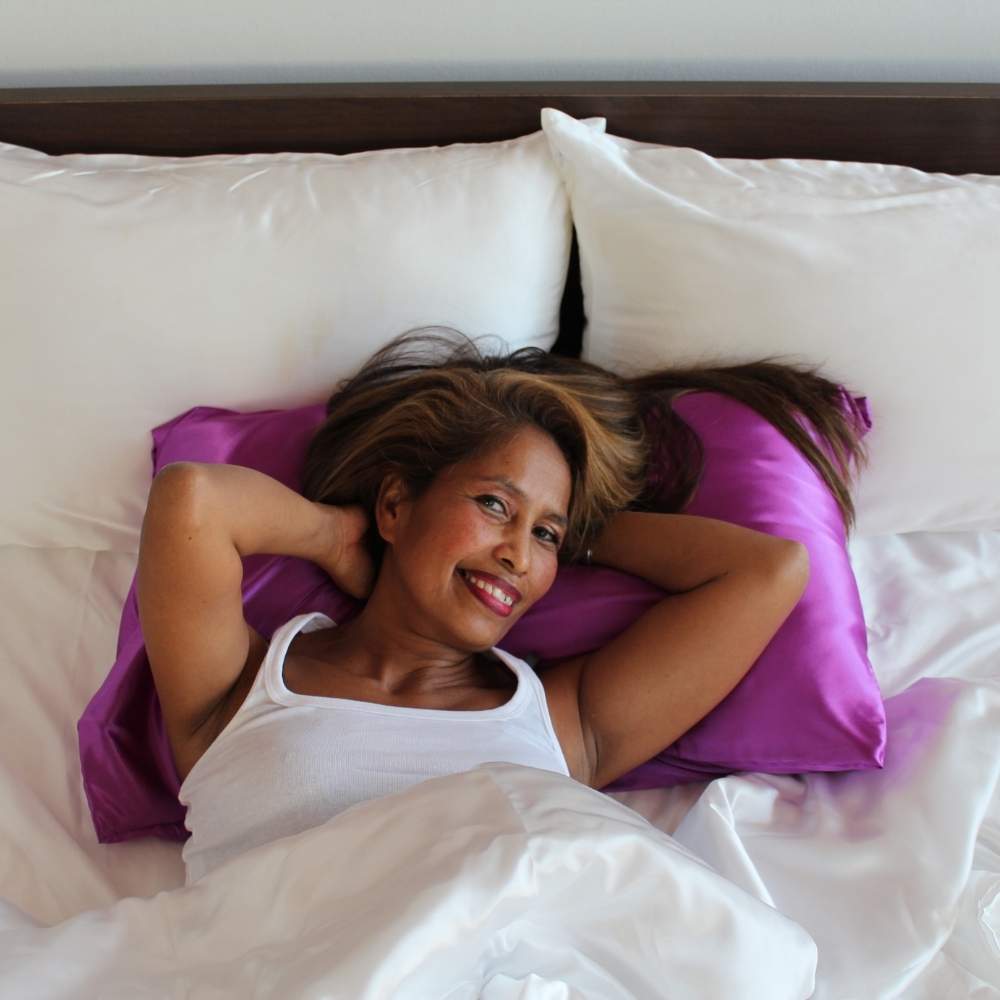 Frequently Asked Questions
Which payment methods are accepted?
We currently only accept credit card payments, PayPal & Crypto currency. More payment methods will be added in the future.
What currency are the prices displayed in?
All of our prices are displayed in $ SGD.
What are your delivery options and how long will it take?
Singapore: Free delivery, 5-7 days
Other countries: Free delivery, 5-7 days
OUR DELIVERY PARTNERS
Do I get a receipt for my order?
You will be sent a receipt for your order by email after payment is made. You will also receive a confirmation email with a tracking number once your item has been shipped.
Do you have a shop location?
We are a "online supplier", with no physical shop or premises. In this way, we are able to pass our considerable savings directly to you.
Can I return my item?
We will gladly Refund or Exchange an item if:
The item is faulty
The item is not the same as the description or as shown or advertised
The item does not perform as per the manufacturers intention
You may not be entitled to a Refund or Exchange if:
You have changed your mind and no longer require the item
You decide you cannot afford the item
You found the item cheaper elsewhere
The style, colour, or size is not suitable
You were responsible for the fault
All refund requests MUST be accompanied with an original receipt or other proof of purchase.
Please feel free to discuss our policy with our Manager prior to purchase.
Note that measurements quoted on our website and affiliated sites and social media channels are subject to slight variances, when purchasing items measure all items to ensure they fit your space.
How do I know if my order has been shipped?
Once your order is shipped, it will be marked as complete in our database and you will receive a confirmation email with a tracking number.
I haven't received my order yet! Is it lost?
If you have any concerns with your order, please contact our support team by email and they will be glad to assist you. Most emails are answered within 1 business day.
Support Team: [email protected]
What are the advantages of using a Satin Silk Pillowcase?
Using a Satin Silk Pillowcase offers multiple advantages, including reducing hair friction, preventing skin wrinkles, and providing a smooth, comfortable surface for better sleep.
How does a Satin Silk Pillow Case contribute to hair health?
A Satin Silk Pillow Case contributes to hair health by reducing friction and preventing hair breakage and split ends. It also helps maintain hairstyles, especially for curly or wavy hair.
Can a Satin Pillow Slip enhance my nighttime skincare routine?
Yes, a Satin Pillow Slip can enhance your nighttime skincare routine. Its smooth surface reduces friction, which can minimize skin irritation and the formation of sleep lines, helping to keep your skin looking fresh.
Are Satin Silk Pillowcases suitable for all hair types?
Yes, Satin Silk Pillowcases are suitable for all hair types, including straight, curly, wavy, and coiled hair. They help preserve the natural texture and health of your hair.
Can a Satin Silk Pillow Case be used with standard-sized pillows?
Yes, a Satin Silk Pillow Case is designed to fit standard-sized pillows, making it a convenient and stylish addition to your bedding.
How should I care for my Satin Pillow Slip to maintain its quality?
To maintain the quality of your Satin Pillow Slip, it's typically recommended to hand wash it using a mild detergent suitable for satin or follow the care instructions provided by the manufacturer.
Can using a Satin Silk Pillowcase help reduce morning bedhead?
Yes, using a Satin Silk Pillowcase can help reduce morning bedhead by minimizing hair friction during sleep, allowing you to wake up with smoother, tangle-free hair.
Are Satin Silk Pillow Cases a stylish addition to my bedroom decor?
Absolutely! Satin Silk Pillow Cases, with their smooth and luxurious appearance, are a stylish addition to your bedroom decor, enhancing both comfort and aesthetics.
Can a Satin Pillow Slip be a thoughtful and luxurious gift?
Yes, a Satin Pillow Slip makes a thoughtful and luxurious gift. It combines practicality with elegance, making it a delightful present for loved ones.
Can using a Satin Silk Pillowcase improve my overall sleep quality?
Yes, using a Satin Silk Pillowcase can improve your overall sleep quality by providing a comfortable and smooth surface that reduces friction and enhances your sleeping experience.
Silk vs Satin
Before we get into which is better for your skin and hair, we should properly define what satin and silk fabrics are. If you are like the general population, you have no idea.
All you know is that both silk fabric and satin fabric are smooth silky to the touch and are nice to sleep on.
What Is Silk?
Silk is a natural fiber produced by larvae for building cocoons.
The silkworm excretes the sticky liquid protein and pushes it out through its mouth. To make its cocoon, the worm will perform about 300,000 figure 8s and produce about 1 kilometer of filament.
Unfortunately, hatching destroys the thread. Thus, the thread has to be unraveled before the caterpillar comes out as a moth. Heat in the form of either boiling water, steam or hot air is applied to soften the binding agent and unwind the cocoon.
The heat also kills the caterpillar. To produce one pound of raw silk, about 2500 caterpillars sacrifice their lives.
What Is Satin?
Satin is a weave rather than an actual fiber of its own. The fabric is made by weaving over x number of threads and under one.
For example, 4/1 satin weave is made by passing over four threads and under one. This pattern is what creates a soft, shiny side and a dull, matte side to the fabric.
Satin can be made from several different raw materials. These include nylon, rayon, polyester, wool, and silk. This a fabric could be both silk and satin!
The Main Difference Between Silk and Satin
Both fabrics offer some beauty benefits. But how do you decide which one to choose?
For most people, the deciding factor is the price.
Silk is a natural fiber, and extracting it is a labor-intensive process. Not to mention a whole lot of caterpillars literally give their lives to produce this luxury fabric.
This gives silk a luxury price tag. You can literally pay several hundred dollars for a top of the line silk pillowcase.
On the other hand, you can buy a quality satin pillowcase made from polyester and enjoy many of the same benefits for less than $20.
But polyester sounds so scratchy! We promise that it isn't when it is woven using the satin weave. In fact, many people can't tell the difference just by touching it.
Remember, the raw material isn't as important as the weave. The weave is what gives satin the soft, luxurious feel that we know and love.
Cleaning Satin 
Bacteria and dirt will build up more slowly on silk or satin than on cotton, but you still need to wash it frequently. You don't want to be applying a fresh layer of skin irritants every time you go to sleep!
For this reason, read the label carefully before deciding between silk or satin pillowcases. Some have to be dry-cleaned only, some must be washed by hand, and others can go into the washing machine.
To keep things convenient, you'll want to choose a pillowcase that you can throw in the wash. Just remember not to wash it with clothing that has zippers or anything else that could snag the material.